Chapter Consul Mike Rahill receives charter and congratulations from Grand Consul Morton H. Flock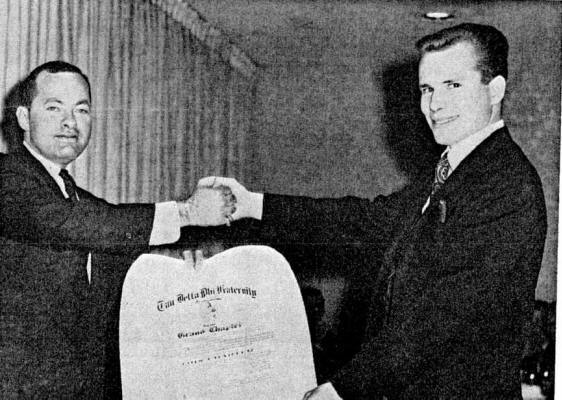 On May 27, 1967, after a year as a colony, Tau Phi Chapter entered the Pyramid of Tau Delta Phi, becoming the 32nd active chapter of the Fraternity. With the help of teams from Tau Epsilon, Tau Iota, Alpha, and Gamma, the installation was carried out with dignity and decorum.
Seton Hall University, a burgeoning educational center, situated in South Orange, New Jersey, is the home of Tau Phi. The new chapter grew out of Sigma Phi Nu, a respected and influential local Fraternity on the Seton Hall Campus. The founding members of Tau Phi Chapter are:
Anthony J. Alfaro
Charles R. Baletti
Sabino Caterina
Michael W. George
Joseph Groppenbacher
Michael T. O'Gara
Barry L. Patterson

John Pettit
R. Michael Rahill
James W. Richter
Raymond Russomono
Joel M. Shilling
Joseph Staszkiw
Gerald E. Wronski

Photo and text from "The Pyramid", Fall 1967.